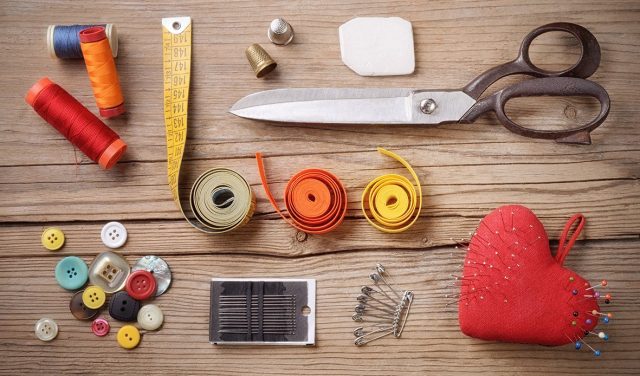 As you all know, patches are the outclass way to create a modern touch with a vintage fashion style. They are providing you with endless creativity from the iron-on to the sew-on!
No matter if you want to design jackets, shirts, backpacks, jeans, and so on…Not necessarily all the patches can last for a lifetime, but these are the transformers for your outfits and accessories. No doubt the right choice of patches can take your outfit to the next level!
Don't be over-hasty if you are designing sew-on patches! Jerry-built patches can be easily ruined. At the same time, sturdy patches can adorn your personality and outfits that can last longer. You can show your creativity with various custom sew-on patches designed by your own self.
So if you want to get creative designs for your custom sew-on patches, this article can help you to understand the process from making to placing. Stay in touch, and keep reading!
Ultimate Guidelines for Designing Custom Sew-On Patches
Let's take a look at an effortless way how to design custom sew-on patches!
Water soluble backing
A water-soluble backing is the best for a stock patch blank and in the hoop patch as compared to film. The thin film can't bear heavy stitches and embroidery without tearing your garments and patch. If you are unable to get water-soluble backing, then it's better to use a thick layer of film for making your patches, badges, and labels.
For example, water-soluble backing is suitable for sewn-in labels, which can be easily washed away. If you are designing custom Woven labels NZ, you can take these backings to make perfect labels for the promotion of your brand.
Adjust the Placement of Stitches
The easiest way to adjust the placement of stitches on your machine is to put the element where the machine changes the direction and colors of threads.
For the blank stock patches, the first color of your design must be as similar to the standard placement line. After that, you can attach the cut pieces to the backing.
For the hoop patches, use a large piece of fabric than your finishing area before outlining.
Use Zigzag Stitches
This step is all about sewing zigzag tacking of the patch. After your patch is joined to the backing, you can now stitch your main design without changing the color of satin stitches near the edges. This will provide you with a dense layer of the final border before cutting the piece from the backing.
For instance, sew-on patches are the perfect and permanent solution for customized jackets and astronaut space suits. If you are designing sew on patches NZ, you must ensure that your tracking stitches are accurate to provide a perfect touch to the patch's edges.
Terminate the Backing of Your Patch
Once your stitches are done, move on to the step of terminating the backing. Before rinsing, cut the backing as much closer as you can to the patch. You have to follow the guidelines for specific backing. To get a finished look of edges, you need to stitch the edges with the same color thread to the back of the design.
As a simple process, designing custom sew-on patches offers you more possibilities for expressions. Nothing is more amazing than a medium-sized patch that you can easily ship to your customers.
Attaching a Patch on Your Garments
It is the final process of attaching a right patch on the right side over your garments. Adjust the placement before going to stitch otherwise, it will be difficult for your to move on to the desired place.
Place your patch under the sewing area of a machine, and start sewing your patch exactly near the edges with the same color thread for a fine look. After the stitching is done, remove your patch from the machine and cut the thread neatly.
For instance, if you offer online iron on patches services or sew-on patches, you have to ensure correct placement to avoid damaging your garments. Sell your own customized pieces to iron them over the uniforms, adhere them over your apparel, and hand them out for marketing to increase your brand awareness.
By following some basic design principles, you can create eye-catchy designs of customized sew-on patches.
Also Read: Custom Packaging Boxes with Logo
Simplify Your Design
Detailed graphics never create a visible touch to your patch, whether you design a logo, a symbol, or a tagline. Complicated designs can ruin your patches and waste your efforts when you sew on over the outfits.
The best way to create worth-taking designs is to take a rough idea before starting the process. Nonetheless, whatever kind of material you choose for your patch, simple designs with bold colors allow a crowning achievement for promoting a brand. The simpler your design is, the better it will be for your custom sew-on patches.
Omitting Small Type
Avoiding the smallest type of design is crucial for both the symbol and text. Use clear fonts and bright colors; otherwise, your patch will not be feasible to read and create a messy look.
Avoid Using Various Colors
Avoid using extra colors which do not match the logo of your brand. Even if your patch permits various colors, it can be mismatched with your outfit color.
Check Out the Border & Background
This tip is applied for the patches which have borders and backgrounds. The background color, border color, and border style combine to create an overall look of the patch.
Choose the Right Size
Think about granting an outclass look to your garments it's necessary to choose the perfect size patch. Not necessarily all the patches look great with the same sizes; usually, the ideal size of the patch is around 2.5″, but some patches extend their size to 5″ x 1″, which creates a professional touch. Be wise to avoid the extra huge size patches.
Choose the Right Shape
The shape of the patch matters a lot to increase the value of your outfits. You can choose the same shape patches to give a decent touch, but you can take more benefits from custom shape patches. They can increase your versatility among your friends and fellows.
Final Thought
Now you have a better idea about how patches are transforming your lifestyle. All the patches play their best part in increasing outfits' beauty and expanding your brand's awareness. With custom patches, whether sew-on or iron-on, you can create your statement style by designing customized emblems.
Take inspiration from the suggested guidelines for getting more creative ideas. Enjoy the endless pleasure and fantastic results of making your next custom patches!