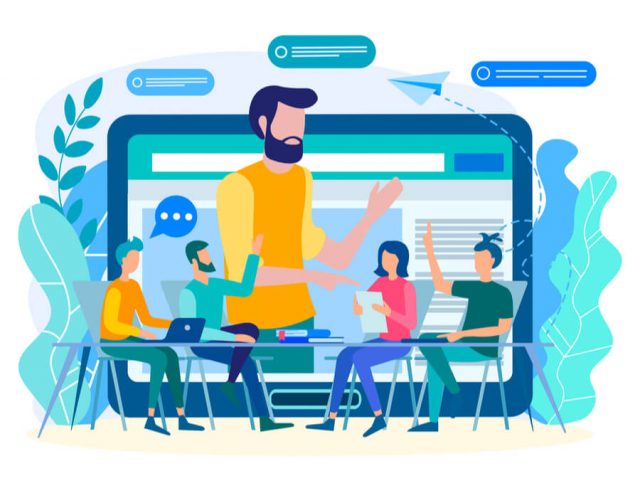 Webinars are an example of an online event that helps businesses and organizations reach their target audiences, gain more clients, raise brand awareness and reputation, generate real leads, and do much more. Always seeking an involved experience is your audience. Therefore, in order to make your webinar session engaging and exciting, it is always vital to incorporate a variety of interactive and intriguing activities. The majority of platforms for online webinars offer interactive features like live chat, polls, Q&As, and more. These technologies enable event planners to capture the audience's interest and maintain it throughout the webinar. Visit our Website.
Are you looking to host a webinar? If yes, try out the following webinar ideas. It will help you to make your webinar more interesting and engaging.
Tips to make your webinar interesting
Utilize interesting and informative visuals
Adding visual elements in your webinar is the best technique to host an interesting webinar. You have work to do if your slides have white text on a black background. Use attractive infographics, charts, and graphs whenever possible. You may create interactive, full-color HD slides using the Powerpoint tool included in the webinar platform, which will make the subject matter much simpler to understand and also, you may use quotes to motivate not matter those are real quotes or not so just use any perchance incorrect quote generator and find out a quote for your webinar. In fact, it will be a lot more intriguing if you can come up with a technique to show something rather than just write it down. click here to know more.
Share your story
You most likely have many stories and examples of what has and hasn't worked in your area of expertise. Share them, then! If you have important ideas you want your audience to remember, then each important idea should be contained in a fun story. People adore tales. Instead of offering a boring introduction while hosting a webinar, including a story. Your viewers will be hooked and be more able to relate to you as a result. There is no issue if you are not the sort to overshare. Your narrative need not be based on your own experiences.
Talk about professional experiences you've had and how you overcame obstacles. Alternatively, ask a client to relate their experience. If your product was able to benefit them in any manner, this strategy earns bonus points.
Create a quiz
The best way for you to make your webinar more enjoyable is to administer a little quiz. Either at the beginning to break the ice and introduce your subject, or at the conclusion as a fun wrap-up. Depending on your goal, there are many different ways you can use quizzes throughout your webinar. You may easily administer a quiz centered on interesting trivia from your webinar. You might also put your audience's webinar-related knowledge to the test. You may, for instance, raise a question about cloud computing in an IT webinar.
It would be really wonderful if you gave the participants prizes. For instance, the first person to react in the chat with the right response can win a branded t-shirt.
Conduct Q&A sessions
Q&A webinars are the best method of interacting with people directly while addressing any questions or concerns from leads. Make sure the host of your Q&A webinar is an authority on the subject to ensure its success. A great choice for a Q&A webinar host would be a member of the Customer Success team. Furthermore, it will be interesting to be able to connect a face (and a personality) to a name if they frequently communicate with your users.
Strike a balance between questions that are prepared in advance and those that are submitted live during the webinar. As you are promoting your webinar, you might begin gathering some of the more complicated questions. Send an email to everyone who signs up for your webinar inviting them to submit any questions they'd want you to address. After that, compile all of your responses and group them according to how similar they are. One of your coworkers could join your live webinar and start off by posing some of these queries. This will act as an icebreaker for you and inspire the audience to pose their own inquiries.
Conduct a survey
Conducting a poll or survey is another approach to increase the interactivity of your webinars. Polling audiences during live events is simple with the best webinar platform. A webinar platform can also be used to host polls or surveys.
All you need to do is prepare some questions for the audience, which does need some effort and planning. However, it will be worthwhile. Keep in mind that your surveys don't have to be extensive. In fact, one- to three-question surveys are more likely to elicit a positive response from your audience than lengthy, in-depth ones. Which polls and surveys should you plan to conduct? Your audience, the information you're presenting to them, the goal of your webinar, etc. all play a huge role in this.
Webinar Performance: After presenting your webinar, you might want to get feedback from your audience. You may choose pertinent webinar themes, hone your webinar hosting abilities, and more with the assistance of this material.
Attendee information: Ask your audience about their likes and dislikes, daily struggles, and professional aspirations. You can better offer webinars in the future by learning about your target market with the use of information like this.
Final words:
You must involve your audience if you want to create a successful online event. You may achieve this by putting the seven suggestions listed above into practice, which will make your webinars more engaging. A reliable and feature-rich webinar platform should also be taken into account if you want to hold a successful webinar. The live webinar platform has a variety of options that can help you create an intriguing and engaging webinar. You can assess your webinar's performance using the webinar platform. It can be advantageous to enhance your upcoming webinar.