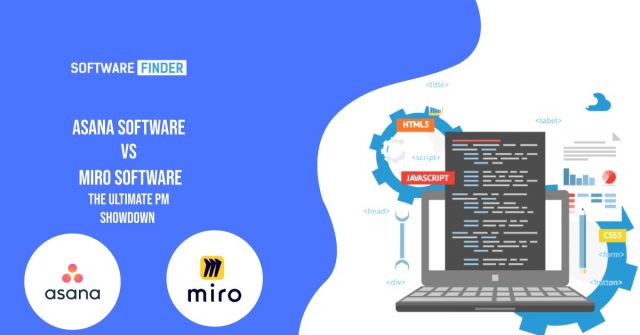 Asana is one of the best-known PM softwares. Asana offers a variety of valuable features, including tagging, forecasts, real-time updates, project planning, chats, task weight, customizable profiles, personalized management, event management, deadline tracking, dependent tasks, categorization, and many more. Asana's phone assistance is not very good. It is intended for medium-sized businesses and may be used by any size team. It also has the most active free users out of the other three. optimal for tasks. With the help of digital sticky notes, distant teams may efficiently collaborate online with Miro. It is a platform for planning and managing agile processes and collaborative online whiteboards. Around the world, more than 25,000,000 product owners, managers, UX/UI designers, agile coaches, and designers utilize Miro to develop the Next Big Things. This blog will delineate all the essential features along with reviews, pricing, and demo. Keep reading further to get to know the tools altogether.
Asana Software
Asana Software is a web-based project management platform that aids in the planning, monitoring, and overall administration of project activities. For managing tasks and organizing programs, there are several capabilities available. Users can give clients all the details they need to know about a project's status. They can also tailor their perspectives to fit their preferences and complete every assignment on time. Asana project management software provides teams with a step-by-step roadmap on how to accomplish a milestone and spells down all activities in the proper sequence. Users may keep an eye on all of the thread's actions and track the vital indicators for a company. The managers and executives can also access the admin section of the software. 
Asana Key Features
Timeline
Making the connection between tasks and due dates using a timetable might be helpful. Additionally, you may communicate plans to your team via the timetable and ensure that everyone follows the strategy. Additionally, you can adjust the strategy in light of any changes that might take place. Even better, you can import your spreadsheets into Asana and convert them into valuable Timelines.
Automation
Manual labor that should be used for actual work can be depleted by repetitive actions. To automate processes like assigning tasks, updating priorities, and establishing due dates, Asana software can be used. To keep the team cohesive, you can also create unique rules for them to abide by. Through Asana, you may develop a work structure that is impenetrable and automated.
Workload Management
Workload balancing is supported by Asana software, ensuring that no one is overworked or underworked. To learn more, you can drill down into the tasks and look at each team member's workload. You can get a better idea of how much labor folks have to do by doing this. This function can assist you in creating a balanced workspace where productive interaction is encouraged. With the drag-and-drop capabilities, tasks can even be assigned and reassigned.
Asana Pricing
Users of the Asana website have three different pricing choices. Free is the Basic plan, $10 is billed for the Premium plan, and $24 is billed for the Business plan.
Asana Demo
The Asana demo that is offered on the website is also available to interested consumers. The demo offers a helpful overview of the software's features.
Asana Reviews
It is straightforward to use and pick up for a novice. There is a desktop application available, so both the desktop software and the web browser can be utilized. To get going, a free version is offered.
Miro Software
Miro Software is a productivity tool that you can use to run meetings and workshops. That is, by combining: 
Product development,
Agile workflows,
User experience research and design,
Innovation/ideation,
Strategic planning,
and mind mapping into a tiny but effective piece of software.
When starting a new project, Miro presents you with an empty, limitless canvas where you can immediately begin thinking of ideas and working with team members. It enables a variety of methods your mind might wander creatively in place of using lists. It also includes mind mapping, agile workflows, whiteboarding, etc. The board allows team members to contribute their ideas actively, and you may all further communicate via text, phone, or video chats.
Miro Software Features
Whiteboard
The limitless canvas seems like a whiteboard arrangement and is actually an ample scrolling digital sheet. The left side of the screen has a pop-out icon tray, but it looks like a blank page otherwise. The canvas is compared to a Google doc's counterpart of a physical whiteboard by Michael Luchen, product manager at Miro. You can see who is involved, and the creator of a project can limit viewing, commenting, and editing rights, just like you could with Google Docs.
Easy Collaboration
Miro offers improved collaboration experiences despite geographic isolation and time zone differences because it was created to function best with distributed or remote teams. You can quickly share presentations and whiteboards and look at mouse clicks to see where your team members are engaged. Also, post messages and comments on various communication channels.
Security
Due to the platform's security, users feel comfortable using Miro to store their private data. For each task and dashboard, there are privacy choices. As a result, both internal and external attackers cannot access the accounts or data. The sharing and viewing of particular boards can also be limited by administrators.
Miro Cost
Four distinct payment options are available for Miro: Free, Team, Business, and Enterprise. The free plan is excellent for beginning users because it is cost-free. The Team option, on the other hand, is $8, and the Business plan is $16.
Miro Demo
Users have the option of choosing a live Miro software demo to learn more about the various features, but they also have access to a thorough user guide.
Miro Reviews
It is simple to use, even for individuals who are unfamiliar with this kind of product, thanks to the numerous pre-designed layouts. Several integrations, such as the ability to import web pages, are available for use.
Conclusion Both Asana and Miro software have excellent administrative functions, making a choice between them difficult. While Miro is a dynamic tool that encourages creativity, Asana software offers dependable choices for carrying out planned tasks.